Prayer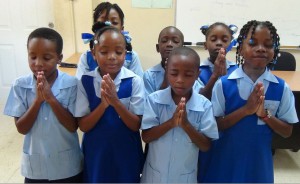 Dear God, our heavenly Father, we thank You for this day.
Delight us in Your presence we pray.
Give us the gift of joy and wonder, in the things that are pure, kind and good.
Be our friend.
Give us laughter and love to share with everyone.
Bless our parents and teachers, as they lead us in the way of success.
Give us inquiring minds and discerning hearts.
Strengthen us and give us courage to persevere in our school work.
Help us to grow to be productive and helpful citizens of our beloved country, St.Lucia.
Teach us to appreciate all that we have received of your bountiful blessings.
In Jesus' name we pray.
Amen
Credit to: Mrs. Peggy Popo